TRAVELMASTER™ 110 COMMERCIAL ESCALATOR
The KONE TravelMaster™ 110 commercial escalator can help you achieve smooth people flow™, even in challenging environments that require an outdoor escalator. This versatile escalator uses proven and reliable advanced technology that meets a wide range of needs for your airport, outdoor commercial area, shopping mall and more. The KONE TravelMasterTM 110 complies with all relevant international and local safety codes.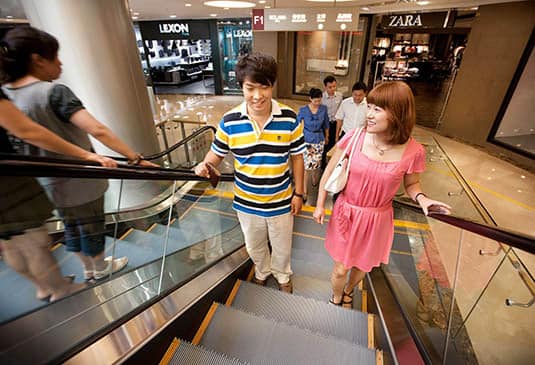 Commercial escalator details
Description
The KONE TravelMaster™ 110 is an eco-efficient commercial escalator that is optimized for both indoor retail environments and outdoor escalator use cases like an outdoor mall or shopping center.
Specifications
Operational environment: indoor, semi-outdoor, full outdoor
Speed: 0.5 m/s
Inclination: 30º, 35º
Step width: 600, 800, 1000 mm
Vertical rise: up to 13 m
Commercial escalator safety
Safety is the starting point for every KONE escalator. The TravelMaster™ 110 commercial escalator conforms to all local and international safety codes.
KONE completes the most comprehensive performance test in the industry, on all our products. All our escalator products are tested for noise vibration, speed detection, and energy consumption rate, ensuring passenger safety.

We provide standard commercial escalator safety features including comb plate impact device switches and emergency stop buttons for passengers.
If a problem does occur with our KONE Care 24/7 Alert we provide round-the-clock diagnostics that continually monitors your escalator's, keeping you moving, which is especially vital in busy commercial spaces, for instance a shopping mall or airport.
Commercial escalator options and highlights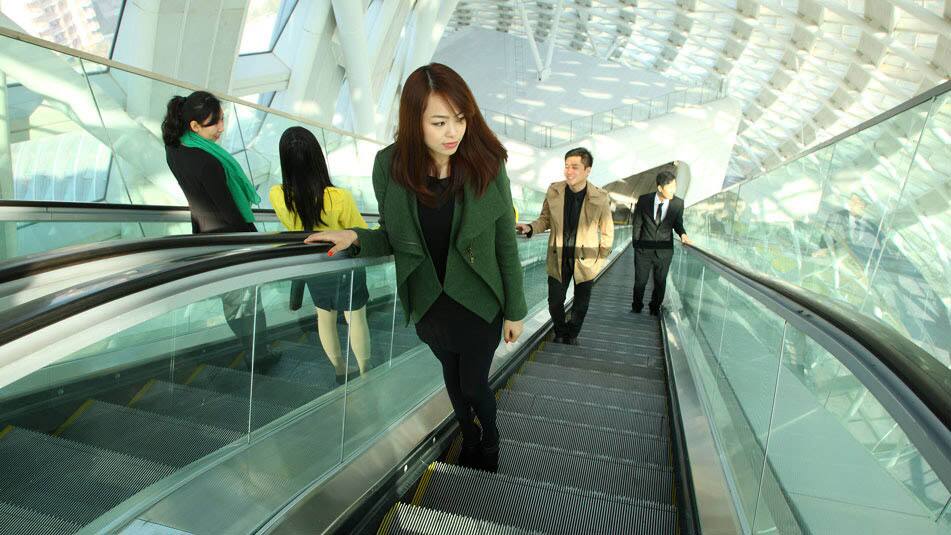 Commercial escalator energy-efficiency
KONE leads the industry in innovative technology moving forward with energy saving and eco-efficient operation modes, top priority for all our products and services. This includes our commercial escalator products. Our escalators for shopping malls and retail spaces meet requirements of A-level energy consumption standards.

Smart operational modes and inverter optimize commercial escalator energy consumption under different load conditions, including outdoor escalator use cases
Long lasting commercial escalator LED lighting is up to 80% more efficient than fluorescent lighting and lasts up to 10 times longer
Energy efficient inverter provides smooth speed regulation during standby operation and minimizes energy consumption at full speed
Optional, lubrication-free step chain meaning cleaner escalators with reduced harmful and hazardous chemicals for a cleaner environment and easier cleaning and maintenance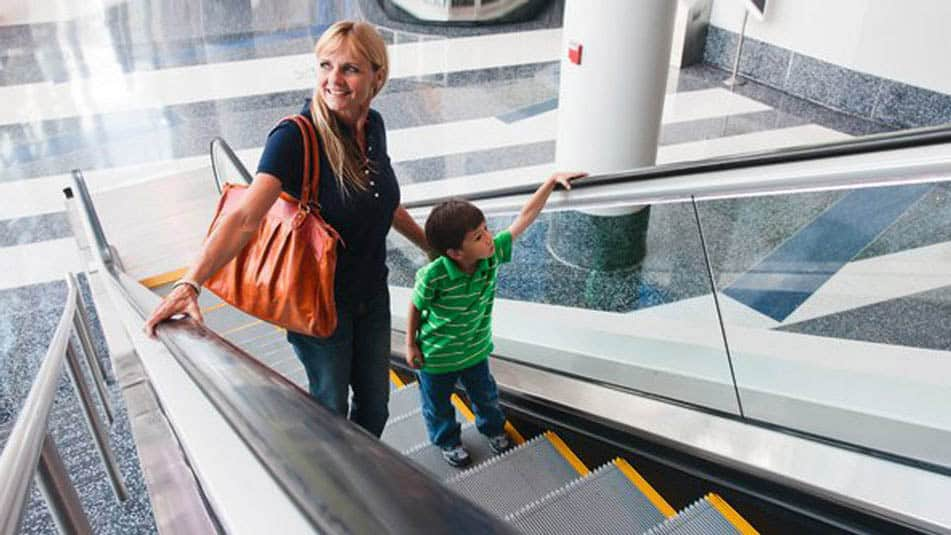 COMMERCIAL ESCALATOR SAFETY
For you and your building user's peace of mind all KONE escalators products are equipped with standard safety features, and meet required regulations, including comb plate impact device switches and emergency stop buttons for passengers.
From installation KONE provides a safe and efficient service, keeping in line with Strict quality criteria for each phase. KONE provides continuous training and site audits to ensure maximum safety and timely product delivery. Keep people moving in your shopping mall or retail space with minimal disruption.
In addition to the standard commercial escalator safety features, we offer optional safety features including
New traffic commercial escalator signalization solutions to provide extra guidance
Audible alarms provide clear guidance on escalator travel direction, including outdoor escalator use cases
Alarm for travel direction if passengers enter a commercial escalator in the wrong direction
Fall-prevention barrier and extended balustrades provide additional passenger protection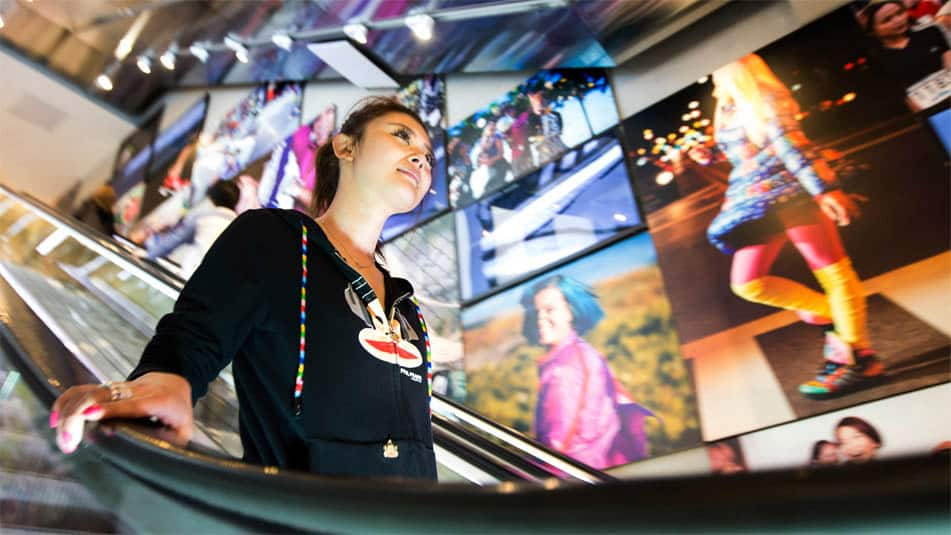 COMMERCIAL ESCALATOR DESIGN
High quality visual design for both indoor and outdoor escalator use cases:
Innovative and attractive commercial escalator lighting solutions that also improve passenger guidance and safety
Wide range of design options to create stunning visual effects and perfectly match your building's architecture
High quality component finishes and a harmonized look and feel throughout the KONE product portfolio
KONE offers modern and stylish designs and finishes, including all components of our escalator products, handrails, skirt panels, decking, end caps, and steps. Choose from a range of safe, durable and stylish designs enhancing the aesthetic of your shopping mall and retail buildings.
Contact us for a detailed cost estimate
| | | | | | | | | |
| --- | --- | --- | --- | --- | --- | --- | --- | --- |
| Product name | Type | Segment | Maximum rise | Speed | Inclination | KONE TransVario direct drive available | 24/7 Connected Services available | Energy-efficiency class |
| TravelMaster™ 110 | Escalator | Commercial, retail, hotel, office, multi-use, stadium, medical | 13 m | 0.5 m/s | 30°, 35° | TravelMaster™ 110T | Yes | A+++ |
| TravelMaster™ 115 | Inclined autowalk | Commercial, retail, hotel, office, multi-use, stadium, medical | 7 m | 0.5 m/s | 10°, 12° | | Yes | A+++ |
| TravelMaster™ 120 | Escalator | Infrastructure | 15 m | 0.5, 0.65, 0.75 m/s | 27.3°, 30°, 35° | TransitMaster™ 120T | Yes | A+++ |
| TravelMaster™ 140 | Escalator | Infrastructure | 35 m | 0.5, 0.65, 0.75 m/s | 27.3°, 30° | TransitMaster™ 140T | Yes | A+++ |
| TravelMaster™ 165 | Horizontal autowalk | Infrastructure | 100 m length | 0.5, 0.65, 0.75 m/s | 0-6° | | Yes | A+++ |